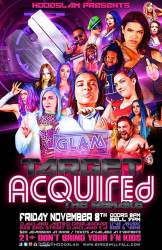 hoodslam presents:
GLAM - Target Acquired: The Remake!
hoodslam's all female wrestling show
21 and up - R-Rated Wrestling - Dont Bring your fn Kids
Time: 8:00pm Day: Friday Ages: 21+ Ages
This Event Has Ended
Previously on GLAM! A Tournament was set in place to determine the true lord of the land, the peak of the mountaintop, the one true GLAMpion... And then all the roads from southern California to Northern California caught on fire and half of our show couldn't make it... So we put in on hold and just had a fun Hoodslam/GLAM hybrid.
But NOW is the time!
EIGHT matches! 16 Kombatants from all over the globe!
Its GLAM - Target Acquired: The Remake!
This time for real!
Unless there's a fire...
21 and up
R-Rated Wrestling
Dont Bring your fn Kids
This Is Real
birdswillfall.com
@hoodslam at facebook,twitter,instagram,youtube, twitch
hoodslam.tv
EVERY FRIDAY at the Oakland Metro Operahouse - more places too!