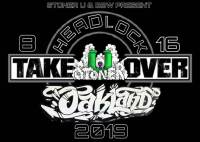 HOODSLAM & UNDERWORLD PRESENT:
Stoner U Dojo: Headloock TAKEOVER Oakland
Time: 8:00pm Day: Friday Ages: 21+ Ages
This Event Has Ended
Once again, we've the future of wrestling takes over the metro on a friday and Stoner U Dojo is back!

21 and up, $20 cover, dontbringyourfnkids to STONER U DOJO HEADLOCK TAKEOVER: OAKLAND!What's gonna happen? How the fuck should we know, we're Hoodslam. They just asked us to make an eventbrite for them, and we figure it makes our calender neat so why not. But if we had to guess?Bart ManBig BBrutal Rob Hands and Rick Stoner, Masters of the PowerbombMaybe some CAUTION TIME? It is all the timeGreat BambinaRichard ShhhnaryMaybe like Marcelo or somethingif you want to be a pro wrestler, go to and tellem we sent ya. We don't get anything from it - at all - except smug satisfaction and maybe a future roster. FTF, am i right?