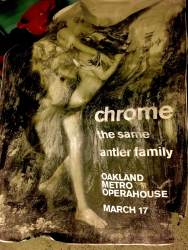 Underworld Opera presents:
CHROME
the same, antler family
Featuring Helios Creed
Time: 8:00pm Day: Saturday Doors: 7:30pm Ages: All Ages Price: $15
This Event Has Ended
CHROME (KQED 2015)
"When it comes to influential underground rock bands, San Francisco is (was) lousy with them. Throw a rock randomly into a crowd on Market St. and you could end up hitting a member of the Flamin' Groovies, Crime, or maybe even one of the Residents (though in the case of the Residents, you couldn't confirm it).

Out of all the Bay Area bands to have been declared seminal, Chrome is probably the most influential while having the least to show for it. Founded in 1975, their Stooges-meets-synths-and-experimental-noise sound is credited with being the beginning of industrial rock music — the stuff that that made careers for Nine Inch Nails and Marilyn Manson, among countless others."

Yet when I call longtime Chrome guitarist Helios Creed days before he left for a week-long west coast tour, he tells me he doesn't know where he's going to live afterward because he's being evicted from his Santa Cruz home.